PERSONAL INJURY
Motor Vehicle Accident

WORK-RELATED INJURY
Trip, Slip, Fall, or Overexertion

SPORTS INJURY
Back, Neck, and Leg Pain
HELPING PATIENTS SINCE 1995 Advanced Chiropractic Specialists - Las Vegas, NV
Dr. Brian K. Fife
An Independent Chiropractic Examiner by the American Board of Independent Medical Examiners and was designated by the State of Nevada as a Permanent Disability Examiner. Dr. Brian K. Fife has performed well over a thousand disability evaluations. He also performs Independent Medical/Chiropractic Examinations, and gives second opinions relating to treatment of injured patients.
Dr. Fife has been treating patients with integrity, devotion, and compassion for 26+ years. He and his team are interested in helping relieve pain while enhancing overall function and movement of the body. At Advanced Chiropractic Specialists we are committed to informing and educating you, so that you can live an overall healthier lifestyle.​
What You Can Expect
An in-depth evaluation of your pain, and discomfort
State of the art digital X-Ray system to assess any damage
Comprehensive rehabilitation program for the spine's hard and soft tissue
Comfortable, stress-free environment that you'll want to come back to
Level of treatment that is unparalleled and will make you start feeling better
New Patient Forms
Please print out and complete the new patient forms and bring them with you to your scheduled appointment.
Please arrive at least 15 minutes prior to your scheduled appointment time. Make sure to bring your insurance card and photo ID.
Patient forms include: Confidential Patient Info, Authorization and Assignment, Informed Consent, Financial Responsibility Acknowledgement, and Privacy Practices Acknowledgement.
Monday, Wednesday, Friday
9 AM to Noon | 2 to 6 PM
Tuesday & Thursday
2 to 6 PM
COVID19 Notice: We are open. Temperature checks will be taken upon arrival. Masks are to be worn at all times for the duration of your visit. We administer deep sanitizing before and after every patient. If you're experiencing any symptoms prior to your scheduled appointment, please call to reschedule. Thank you.
No spine is the same, so it's important that every patient receives a comprehensive physical exam and x-rays (if necessary) to determine a specific care plan that best fits your needs.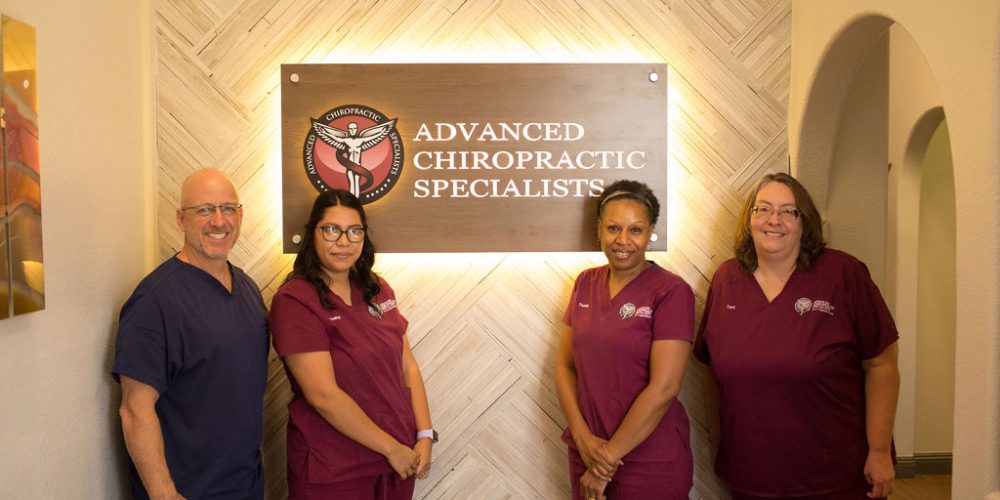 Why choose us
Our mission at Advanced Chiropractic Specialist is to facilitate healing while restoring efficient movement and comfort as quickly as possible. Dr. Fife achieves this through proven hands-on techniques, one-on-one therapy, and bespoke treatment plans designed for each patient.​
Qualified Facility

Friendly & Courteous Staff
Professional, Comfortable
Private Treatment Rooms
Convenient Location
Evaluations / Opinions
M.D. & Attorney Referrals

Dedicated Care

Individuals in need of our services who lack insurance — not to worry. We offer affordable rates and flexible payment plans.
What Advanced Chiropractic Specialists patients say about their chiropractic care, our experienced staff and professional office.
"Dr. Fife and his friendly staff make me feel welcome every week. And at last my neck and lower back pain is starting to diminish. Thank you so much!"
"I had a GREAT first visit. I've been to a few chiropractors and I have to say, Advanced Chiropractic was by far the best experience. I've never received an initial consultation as thorough as I had at this office! Excellent care!"
"I had never been to a chiropractor before. The staff was fantastic at making me feel comfortable every step of the way. I could barely walk when I came to see you. I had 2 treatments in 3 days, and I almost have 100% range of motion back. I'm amazed, grateful and can't thank you enough."
"I'm definitely a believer! My back is 100% better than the day I walked into your office. Thank you so very much!"